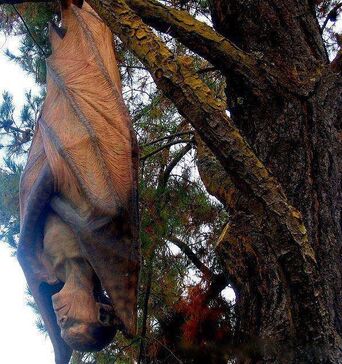 How to Cast the Spell
[
]
Say the spell aloud at night or at dusk. It does not matter if you are inside or outside. But do it naked and with a partner having sex.
The Spell
[
]
1.) Say "By the secret of the dark and the song of moonlight,cloak me with a (Type of bat's) wings and transform me at the dim of each day's light."
2. Imagine yourself turning into a bat, will it to happen.
3. You will transform at sunset every day and then transform back at dawn.
Effects of the Spell
[
]
The effects listed are the only effects you can receive from doing this spell.
Effects of the Spell

| Beneficial | Negative |
| --- | --- |
| Two sharp fangs will grow in the front of your mouth. (Your Maxillary Canines sharpen) | Back,shoulder and arm pain. |
| Perfect Night Vision. | A craving for whatever your breed of bat eats. (This can be good or bad all depending) |
| You transform every day at sunset and transform back every morning. | Anxiety when your in a bright area. |
| | Skin burns more easily. |
| | |
Source
[
]
http://www.spellsofmagic.com/spells/beauty_spells/body_spells/13489/page.html