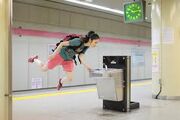 from mytelekinesis.com
u must learn this in order to fly

LEVITATION
1. first fill your whole body with ki.

2. Then move your energy to your foot and fill them both.

3. Now, focus to moving ki out through your soles of foot to earths surface.

4. Try to make that flow so strong as possible.

5. Like all techniques here, it takes time to success with levitation so be patient.

6. Visualize and feel that you are in air and your foot dont touch to floor.
Psychic Aviators
Edit
Those who are skilled at levitation on Weird Community Wiki are called Psychic Aviators.
Additional Pictures from other media
Edit